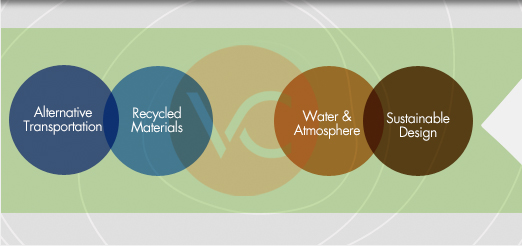 HOW ENVIRONMENTALLY CONSCIOUS ARE WE?
Social consciousness, environmental conservation and sustainable design have been fundamental principles of our practice from the beginning of our professional association in 1991. We advocate Environmental responsibility to our clients and vendors and is reflected not only in our design approach but also in our daily operations by recycling, conserving energy and avoiding waste.
Our credentials include USGBC and LEED AP Accredited Professional certification.
MEMBERSHIP AND CERTIFICATIONS
VC Architects, PA is a member of the United States Green Building Council USGBC since 2006.
All our architects are required to be LEED AP Accredited Professionals.
ALTERNATIVE TRANSPORTATION
VC Promotes alternative transportation to reduce pollution and development impacts from automobile use. VC provides financial incentive to employees who opt to commute by using public transportation or car pooling by offering reimbursement for public transportation fares and salary increases equivalent to the cost of parking space rental.
PROJECTS PENDING APPROVAL
Vitalini Residence (status: applied for LEED Platinum Certification)